Stretch Wrapping Films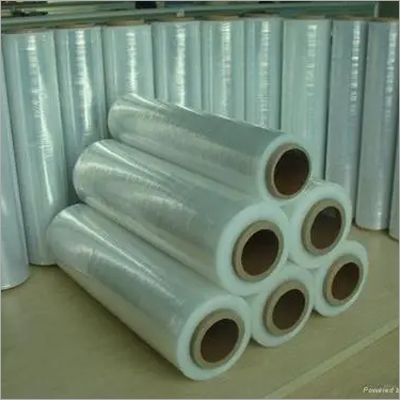 Stretch Wrapping Films
Price And Quantity
Kilograms/Kilograms

100.00 - 125.00 INR
Product Specifications
Stretch Wrapping Films

Blow Molding
Single-Layer

Customized Sizes, Design
Product Description
LLDPE fabricated Stretch Wrapping Films are known for their excellent dust and moisture resistant attributes. Advanced multiple extrusion processing technology has been used to develop these materials. Transparent in appearance, these materials possess good anti blasting attributes, unique impact resistant properties and good tear strength. Being highly flexible, these wrapping solutions simplify packaging process. Quality of these packaging solutions has been verified on the basis of their strength, resistant properties, design, diameter and toxin content. Due to their environment friendly raw materials based content, these are totally safe to handle. We offer these items in different thickness, length and width based specifications to suit precise application needs. As a prestigious manufacturer and supplier of LLDPE Stretch Wrapping Films, we have attained reliable position in the market. Our product reliable, cost effective and secure solution to meeting your packaging needs. This film is a highly stretchable polyethylene material that ensures secure and tight wrapping of almost any type of product or bundle for easy transportation, storage and handling. The films are also resistant to humidity, tears and punctures.
Stretch Wrapping Film Features:
1. Elasticity and Stretchability: Stretch film has excellent elasticity, allowing it to stretch up to several hundred percent of its original length without breaking. This stretchability enables the film to conform tightly to various shapes and sizes of loads, providing stability and preventing shifting during handling and transit.
2. Load Containment and Stability: The primary purpose of stretch wrapping film is to secure and contain loads on pallets. The film clings to itself when stretched, creating a tight, protective layer around the items being wrapped. This containment prevents individual items from shifting or falling off the pallet, minimizing the risk of damage during transport and storage.
3. Strength and Tear Resistance: Stretch film is manufactured to possess high strength and tear resistance. This durability ensures that the film can withstand the rigors of transportation and handling without tearing or puncturing easily. It helps maintain the integrity of the wrapped load and prevents accidental tears that could compromise its stability.
4. Transparency: Most stretch wrapping films are transparent or semi-transparent, allowing for easy visibility of the wrapped items. This feature is particularly useful in situations where identification or scanning of the products is necessary without the need to remove or unwrap the film.
5. Protection against Moisture, Dust, and UV Rays: Stretch film provides a protective barrier against moisture, dust, and other environmental factors that could potentially damage the goods. Some stretch films also offer UV protection, safeguarding the wrapped items from harmful ultraviolet rays during outdoor storage.
6. Cost-Effective: Stretch wrapping is generally considered a cost-effective packaging solution. The film is lightweight, reducing shipping costs, and it requires minimal material to secure a load effectively. Additionally, stretch wrapping machines are available to automate the process, further improving efficiency and reducing labor costs.
7. Varieties and Customization: Stretch wrapping films come in various thicknesses, widths, and lengths to accommodate different load sizes and application requirements. Additionally, manufacturers offer options such as pre-stretched films, colored films for branding purposes, anti-static films for sensitive electronic components, and more, allowing customization based on specific needs.
Frequently Asked Questions:
Q: What is stretch wrapping film?
A: Stretch wrapping film is a plastic packaging material commonly used to secure and protect items on pallets during transportation and storage. It is a stretchable film made of polyethylene or similar materials.
Q: How does stretch wrapping film work?
A: Stretch film is wrapped tightly around a load or pallet and stretched to create tension. The elasticity of the film allows it to cling to itself, forming a secure and stable wrap that holds the items together and prevents them from shifting during handling and transit.
Q: What are the benefits of using stretch wrapping film?
A: Stretch wrapping film offers several benefits, including load stability, protection against dust and moisture, ease of identification, cost-effectiveness, and efficient packaging. It helps prevent damage to goods during transit, improves handling efficiency, and provides a professional and neat appearance to palletized loads.
Q: How do I choose the right stretch wrapping film for my needs?
A: When selecting stretch wrapping film, consider factors such as load weight, size, and shape, as well as the desired level of protection and stability. Also, assess the compatibility of the film with your packaging equipment, and if needed, consult with a supplier or manufacturer to determine the most suitable film for your specific application.
Q: Can stretch wrapping film be recycled?
A: Yes, stretch wrapping film is recyclable. However, the recycling process can vary depending on local recycling capabilities and facilities. It is essential to check with local recycling centers or waste management authorities to determine the appropriate recycling methods for stretch film in your area.
Q: Can stretch wrapping film be used for outdoor storage?
A: Yes, stretch wrapping film can be used for outdoor storage. However, it is important to ensure that the film provides adequate protection against UV rays if the wrapped items are susceptible to damage from sunlight. Some stretch films are specifically designed to offer UV protection for outdoor applications.
Q: Are there different types of stretch wrapping film?
A: Yes, there are various types of stretch wrapping films available to suit different applications. These can include standard films, pre-stretched films, anti-static films, colored films for branding purposes, and more. Each type has specific properties and advantages, so it's important to choose the one that best meets your requirements.
Q: Can stretch wrapping film be used without a machine?
A: Yes, stretch wrapping film can be applied manually without a machine. However, using a stretch wrapping machine or dispenser can greatly improve efficiency, speed, and consistency of the wrapping process, especially for larger volumes of palletized loads.