Stretch Poly Film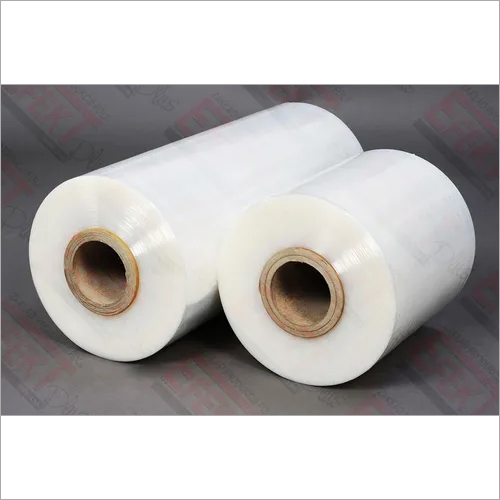 Stretch Poly Film
Price And Quantity
Kilograms/Kilograms

100.00 - 125.00 INR
Product Specifications
Stretch Polyfilm

Translucent
Product Description
Stretch Poly Film is a stretchable poly film made from high-quality raw materials. It is widely used for commercial and industrial applications. This poly film provides protection to the products from dust and moisture, especially during the shipment. It is available in different thickness as per the requirement. It is a highly stretchable film which has the ability to adapt the shape of the product and provides greater security. Also, Stretch Film Roll is highly durable and light in weight poly film. Stretch Poly Film is an ideal solution for a variety of products requiring superior strength and superior tear, puncture and moisture resistance.Its unique elasticity provides excellent protection and secure wrapping for a range of items, from furniture to heavy industrial objects. Our Stretch Poly Film is constructed from top quality resins for optimal performance and resilience.
Stretch Poly Film Features:
1. Elasticity: Stretch poly film is highly elastic, allowing it to be stretched and wrapped tightly around objects of different shapes and sizes. This elasticity ensures a secure and snug fit, providing excellent load stability.
2. Load Protection: One of the primary purposes of stretch poly film is to protect and secure loads during transportation or storage. It forms a protective barrier around the products, shielding them from dust, dirt, moisture, and other external elements. This helps prevent damage, tampering, and pilferage.
3. Versatility: Stretch poly film can be used for a wide range of applications across various industries. It is commonly used for unitizing palletized loads, bundling items together, or wrapping irregularly shaped objects. Its versatility makes it suitable for different types of products and packaging needs.
4. Transparent or Opaque Options: Stretch poly film is available in both transparent and opaque versions. Transparent film allows for easy identification and inspection of the packaged items without the need for unwrapping. Opaque film, on the other hand, conceals the contents, providing privacy and security for sensitive or valuable products.
5. Strength and Durability: Stretch poly film is engineered to be strong and durable, capable of withstanding the rigors of transportation and handling. It offers excellent puncture resistance, tear resistance, and load retention properties, ensuring that the wrapped items remain securely protected throughout the supply chain.
6. Cost-Effective: Stretch poly film is a cost-effective packaging solution. It is typically lightweight, reducing shipping costs, and requires minimal material usage compared to other packaging alternatives. Additionally, it can be easily applied manually or with automated equipment, enhancing efficiency and reducing labor costs.
7. Environmental Considerations: Many stretch poly films are recyclable, making them a more environmentally friendly packaging option. Recycled stretch film can be converted into other plastic products, reducing waste and resource consumption. Additionally, advancements in sustainable packaging have led to the development of bio-based and biodegradable stretch films that further minimize their environmental impact.
8. Customizable Options: Stretch poly film can be customized to meet specific packaging requirements. It is available in various widths, thicknesses, and lengths to accommodate different load sizes. Additionally, specialized films with enhanced features like UV protection, anti-static properties, or cling additives can be chosen based on specific needs.
Frequently Asked Questions:
1. What is the purpose of stretch film?
Ans: Stretch Poly Films are elastic plastic films used to wrap products to keep them in place. They are commonly used on shipping pallets to enclose products and boxes during shipping. will be used. A must-have for e-commerce businesses that ship products frequently.
2. What material is used for stretch film?
Ans: Polyethylene
3. Can stretch film be recycled?
Ans: The short answer is yes. Stretch film roll is commonly made from Linear Low Density Polyethylene (LLDPE), which is called Category four in recycling programs.